Performance
Jaryd Clifford is unstoppable
Jaryd Clifford is yet to face a challenge he can't overcome
Editor's Note: The following editorial and imagery was created before Melbourne went into Stage 4 lockdowns. All appropriate laws and measures were respected and adhered to.
---
No poetic intro, no long indulgent opening. Not today. We've got some catching up to do - we need to get up to speed on Jaryd Clifford. First, the obvious - he's a visually impaired athlete competing in the T12-13 classification.
He just turned 21, he's at university, and he wants to be the greatest Paralympic runner in history. After looking at Jaryd's achievements so far, it would be hard to bet against him.
2019 Double World Para Champion (1500m & 5000m)
1500m Visually Impaired World Record holder in 3:45.18
Fastest guided 5000m in history in 14:05.40
World Best for the 10km Road (29:43) - (PS - he ran 29:30 on the track in an unofficial time trial during COVID-19 lockdown)
First para-athlete to qualify for the World Juniors in 2018 (we're talking World Juniors for able-bodied athletes here, BTW)
First Australian para-athlete to win an Australian junior title (U20 1500m in 2018).
You get all that? World Champion, World Record Holder, World Best. 21 years old. Now you know the athlete, but you're about to find out that Jaryd Clifford is so much more than an athlete.
Imagine finding out at the age of 3 that a huge part of the common experience of life will be cut off to you. Things like learning to drive, going to the movies, or even sitting across from someone and being able to pick up on the subtleties of human expression - you'll never experience any of them. That's not to say any of those are essential to a good quality of life, because they're not, but they are part of a common experience the vast majority of us take for granted.
In those formative years, you're undeterred. You don't really know any different - life through your eyes has always been this way.
When your friends sign up for junior footy, a right of passage for a lot of Victorian kids, the easy option would be to say 'hey, maybe football isn't the sport for me'. Instead, you find a solution - the coaches start you in the middle so you can follow the ball. There's incentive to chase hard and stay with the ball - if you lose it, you have to run to the sidelines and wait until the ball goes back to the middle so you can have another crack at it.
In the classroom, you have to concentrate so hard to keep up that by Thursday you're exhausted. You're kept home each Friday so you can recover from the strain - and so you can summon the energy to play sport on the weekend.
Your childhood is littered with examples like this. At the time, it just seems like adapting - doing the best you can with what you have. What you don't realise is that it's ingraining in you one of the most sought after traits an Australian athlete can possess - something that can't be taught. Mongrel. Craig Mottram had it by the bucket full. One of Australia's greatest ever cricketers, Steve Waugh had it long before he earned his reputation as a great leader. Basketballer Shane Heal maybe had a little too much.
It's a quality that's hard to define but easy to spot - it's a tenacity, a dogged determination, an inner drive to stay the course and be absolutely immovable when people or obstacles get in your way.
Jaryd is matter-of-fact about the obstacles he faced early in life.
"I grew up doing everything the other kids were doing – there was no reason not to. But it's hard sometimes to keep up when you can't see what they see. I survived because I was desperate not to let my eyes take anything away from me. I had to work harder. It was never a conscious understanding – it was just the way things were."
There's a necessary duality to Jaryd. He's incredibly strong - you don't run a 14:05 without grit. And he's not one to back down from a frank conversation - indeed, one of my first conversations with Jaryd was over Messenger. I was in a cab on the other side of the world one day when I felt my phone buzz in my pocket - I thought 'it's late back in Melbourne, who's texting me at this hour?!'. It was Jaryd, letting me know he'd read something I wrote online that he didn't agree with and he wanted me to justify my position.
At the same time, he is vulnerable. There are moments everyday where Jaryd confronts things we can't imagine.
"People have a fear of not seeing. My eyesight is expected to deteriorate, and the idea of this scares people - it scares me too. When I run and I can't see more than a few metres in front of me, I am scared. When I go into the city by myself, I am scared.
But fear makes us stronger."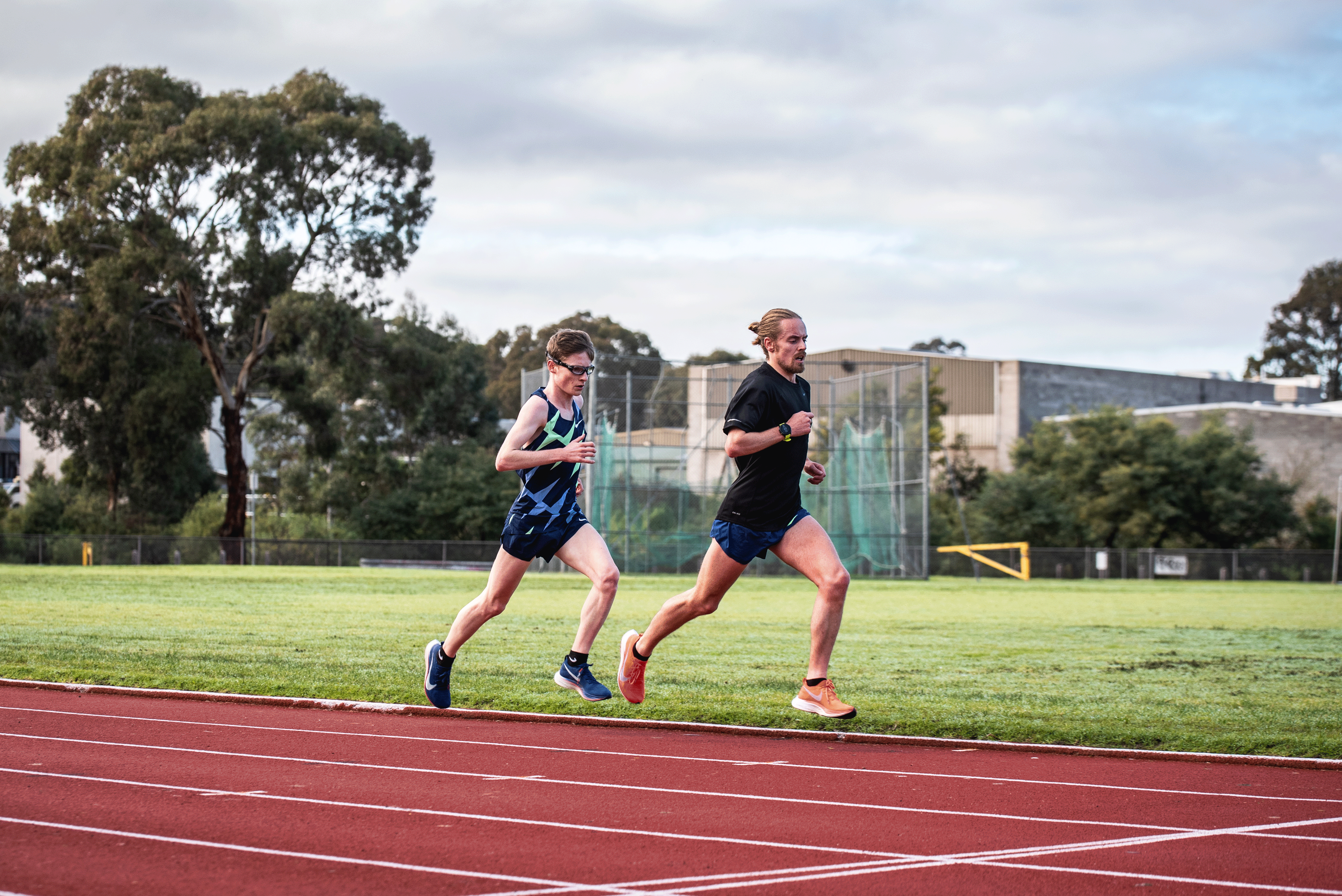 For the uninitiated, Para running can seem confusing - however it's really not. Jaryd competes against other athletes with similar levels of vision. In shorter events like the 1500m, he's allowed a guide runner but in reality - there's probably only a handful of Australians capable of playing the role effectively. In the 5000m, he's allowed two guides (one at a time) - and this is where teamwork comes into play. Basically, Jaryd and his guide run with a tether - a 30cm cord (a lot shorter than it sounds) they each hold in their fingers. Jaryd's main guide is Tim Logan, though he will switch guides during a 5,000m (his coach, Dr Philo Saunders was part of his World Champs win in 2019, while steepler Matthew Clarke has also guided Jaryd in the past).
Being a guide for Jaryd isn't same as pacing a training partner. Tim performs a critical role for Jaryd, talking him through the positioning and moves of competitors that he can't see for himself. As Jaryd's performances get better and his times get quicker (remember, he's just turned 21), the pool of potential guides gets smaller. Athletes like Matthew Clarke have their own Olympic ambitions - and Tim must adopt the mindset that each day he goes to training, he's preparing to run someone else's race. For Tim however, it doesn't feel this way.
"I've been running and training with Jaryd for so long, over the years we've developed a unique friendship where now I have the ability to help him achieve something special. He didn't ask me to guide him, I was already down to help out whenever he needed me to."
Jaryd is acutely aware of the village behind him and doesn't take any of it for granted.
"Eliud Kipchoge's famous quote of '100% of me is nothing compared to 1% of the entire team' sums up my life completely.
I am nothing without my team. With my team I want to make history – the best guide running team in history. I want to win gold for my team and my community. If I win a gold medal it will be the communities medal. If I win, I want everyone to touch it, see it, hold it."
Keen athletics fans would notice the kit Jaryd wears in the images used in this feature - it's the same kit given to Nike's professional athletes around the world. You read that right - Jaryd has recently become the first Australian Paralympic runner to sign a deal with Nike. This in itself is something that any young person dreams of when they're playing sport - to become one of a handful of local athletes to have an endorsement with one of the world's biggest sporting brands is massive.
"Signing with Nike is a monumental moment in my career. It is reward for the hard work and recognition of the fact that a Paralympic career is an elite and professional endeavour. It recognises that Paralympic runners can be heroes for all people. It is not about a sob story or about reminding people how lucky they are – that promotional tool is archaic. This is about the medals, the records, and the never-say-die spirit of the Paralympic Games."
Jaryd explains to me that when speaking with a potential sponsor, he's always looked for partners who are prepared to go to battle with him. To help him create the space for Paralympic sport that it deserves - like a World Para Cross Country, alongside the World Cross Country Championships in Bathurst 2021.
Throughout my career I have refused to accept any sponsorship deal that I believe does not respect or appreciate the power and potential of the Paralympic Games and my achievementsin this arena. My deal with Nike entails all that I (and many others before me) have been fighting for: professionalism, recognition, and an enthusiasm to fight for the dreams of Paralympic athletes. In the years ahead, we will continue to pave the way for Paralympic running in this country and all around the world.
This is only the beginning."
One day, I believe Paralympic runners will face no ceiling to their potential. If I can play even a small part in paving the way for the future, then that will be my most cherished achievement."
Jaryd Clifford
So, armed with a new sponsorship, a great team, and time on his side, Jaryd Clifford has everything he needs to achieve his goals. And you best believe those goals are lofty - Jaryd wants to be the first visually impaired athlete to run a sub-4 minute mile, he's eyeing off multiple gold medals in Tokyo and even more in Paris, but maybe most importantly - he wants to change people's perceptions. To show you that anything is possible, and that running can change lives.
"For decades, Paralympic achievements have not received the recognition they deserve. With thanks to those that came before me, I've been lucky that my career has coincided with a shift towards greater opportunities. We now have a para 1500m at the Sydney Track Classic, this year I was awarded the number 1 bib for Athletics Victoria, and I successfully fought for the inclusion of an international para cross-country race at the 2021 World Cross Country in Bathurst.
And yet, there is so much more we can do. My passion is to bring Paralympic running to the people. At the end of my career, it is my dream that the great Paralympic runners have become household names in the running community, just like Stewy McSweyn and Gen Gregson.
One day, I believe Paralympic runners will face no ceiling to their potential. If I can play even a small part in paving the way for the future, then that will be my most cherished achievement."
It's natural when we see someone with a disability to feel something for them - sympathy, empathy, or an urgent desire to help in some way. Sometimes we even feel guilt that through sheer randomness they have been dealt a harsher hand in life than we have.
But the next time you see Jaryd, remember this article. Remember the attitude, remember the fight, and remember that nothing will stop him. The overwhelming feeling Jaryd's presence should leave you with is not pity - it's inspiration.